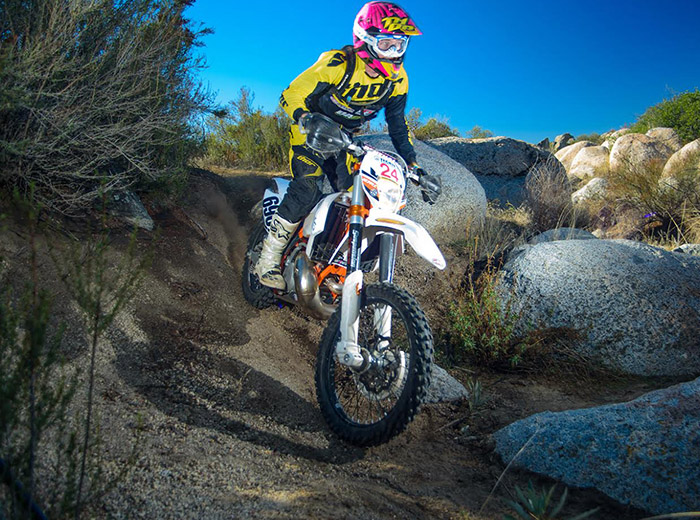 Below is a list of names of those that, according to our records, have made it into the 2017 Tecate Enduro as of 11/15/17.
Racer numbers will be received at the race. You will also be required to sign a liability waiver at the registration table inside the restaurant at Rancho Veronica in order to receive your number, so please visit registration in person. We won't release your number until we have your signed waiver.
Also Important – Please let us know if we have your name as you would like it to show in the results, and more importantly on your trophy when you win your class.
If you are on the waiting list you still might get a call if we have a cancellation but we do have over 40 names on the waiting list this year.
Any cancellations prior to 48 hours before the will be issued a full refund. Cancellations within 48 hours of the start of the race will not be refunded. Corrections and question should be directed to the registration team at LAMCracesignup@gmail.com.
---
ENTRANT LIST
Adams, Aaron
Adams, Dean
Allen, Michael
Alvarez, Jakub
Anderson, Mark
Apostolakos, Phil
Aragon, German
Bachand, Garrett
Baillargeon, Ryan
Barlow, Jud
Barlow, Kolten
Barnard, Ray
Barton, Jeremy
Beck, Jesse
Berger, Todd
Bird, Sam
Blair, Shawn
Blecha, Jake
Boardman, Kyle
Boardman, Ryan
Boardman, Steve
Bogler, Brett
Bombard, David
Border, Brian
Brooks, Brittany
Brown, Craig
Brun, Thomas
Burton, Michael
Butler, Caleb
Cabrera, Esteban
Camarena, David
Camarena, Ricardo
Campbell, Calum
Campbell, Lochlan
Carlin, Philip
Carr, Chris
Chapman, Kirk
Chase, Eric
Chavez, Abraham
Chavez, Norbii
Cole, Camron
Collins, Tanner
Cordato, Kris
Cramer, Eric
Creel, Santiago
Crigler, Sean
Crow, Michael
Crowder, Tim
Csakany, Jon
Cyr, Jean-Paul
Daily, Jackie
Davis, Nils
Davis, Ty
Day, Paul
De La Herran, Guillermo
De La Torre, Jaime
De La Torre, Manuel
DeJongh, Kevin
Desiderio, Earl
Diaz, Roberto
Dolan, Cody
Dominguez, Ty
Dorsey, Alex
Drew, Max
Dugan, Ron
Duran, Eric Fernando
Duran, Evan
Duran, Hiram
Edie, Bob
Engelhardt, Thomas
Esquer, Isaias
Esquivel, Luis
Eubanks, Jordan
Farrell, John
Ferrante, Anthony
Ferrante, Michael
Fierro, Ricardo
Finley, Sean
Fletcher, Eugene
Flynn, James
Flynn, Jim
Foster, Bob
Foster, Robbie
Fouts, Nick
Froman, David
Froman, Trevor
Gallardo, Gilberto
Gallardo, Hugo
Garcia, Oscar
Garza, Sergio
Gates, Bob
Gelhaus, Kelly
Gentry, Ryan
Glimp, Scott
Goldberg, Fred
Green, Peter
Gregory, Daniel
Grieb, Steve
Gustafson, Aron
Gutierrez, Ever
Haberer, Reed
Haeling, Casey
Haley, Conor
Hamer, Stuart
Hayashida, Ted
Heald, Roger
Heredia, Rey
Higgins, Scott
Hilgendorf, Ken
Hinkle, Jake
Hodges, Brooke
Hodges, Gordon
Hollenbeck, Dean
Hollenbeck, Dustin
Hopkins, Emma
Hopkins, Tucker
Hudson, Richie Humber, Ben
Hursh, Andrew
Isenhower, Steve
Jeffries, Mark
Jewell, Tony
Johnson, Dante
Johnson, Kevin
Julian, Allen
Keiner, Jacob
Kepple, Noah
Kilroy, Jason
Koistra, Chuck
Konarska, Chaz
Konarska, David
Lambert, Duke
Lane, Joey
Larry Roeseler,
Lavee, Yoram
Leech, Logan
Leech, Scott
Lepiz, Miguell
Lincoln, CJ
Little, Tyler
Lizarraga, Gilberto
Lizarraga, Jorge JR
Lizarraga, Jorge SR
Lopez, Juan
Mac Farlane, Dirk
Macedo, Diego
Magrane, Scott
Martinez, Gregorio
Matthies, Mason
McCarthy, Dustin
McCarthy, Kevin
McCurry, Austin
McDaniel , Mike
McDonald, Chris
McDonell, Ron
McGrew, Bruce
McKinney, Rex
Medlen, Steven
Mendoza, Daniel
Mendoza, Jose
Mensinger, Michael
Meyer, Jesse
Meyer, Scott
Michel Valenzuela,
Mitchell, James
Montalvan, Carlos
Montalvan, Francisco
Montalvan, Samuel
Montano, Rene
Morefield, Ethan
Moreno, Juan
Morgan, Justin
Morones, Saul
Morton, Grant
Murphy, Ryan
Nantista, Robert
Nguyen, David
Nipper, Ron
Nogueira, Luis
Ochoa, Javier
Ochoa, Manuel Jose
Olden, Jason
Owen Ferro,
Palenske, Grant
Pardo, Jair
Parker, Mason
Parker, Max
Parker, Rick
Parra, Cesar
Pate, Kelley
Patterson, Brian
Pavlu, William
Peel, David
Pennington, George
Poissonnet, Cyril
Prince, Alyssa
Railton, Kyle
Ramirez, Eduardo
Ramirez, Ivan SR
Ramirez, Jairo
Ramirez, Julio
Ramirez, Julio
Ramirez, Orlando
Ray, Simon
Reed, Shane
Reed, Zeno
Reihman, Eli
Reyes, Manuel
Reynoso, Daniel
Reynoso, Juan
Rice, Scott
Roberts, Earl
Roberts, Steve
Roe, Kevin
Rogers, Chris
Rosbach, Brad
Rosenberg, Nick
Rosenberg, Robert
Russell, Bobby
Ryan, Shaun
Salas, Arturo JR
Salas, Arturo SR
Salazar, Will
Sanchotena, Juan JR
Sanchotena, Juan SR
Sanchotena, Stephanie
Sander, Mike
Sanoja, Jaime
Schettler, Eric
Schons, Natalie
Schoonmaker, Schuyler
Scruggs, Mike
Sedberry, John
Shiery, Dalton
Shires, Cody
Siebenthall, Shane
Silva, Alexandro
Silva, Cristina
Smith, Alexander
Smith, Brad
Smith, Dough
Smith, Keanu
Smith, Kyle
Smith, Mike
Smoldt, Dennis
Sones, Jimmy
Spinali, Giovanni
Statley, Grant
Stevens, Jeremy
Stevenson, Cody
Stewart, AJ
Surber, Steve
Sutherlin, Gary
Swanson, Vance
Thies, Jeff
Threlkeld, Paul
Tiffany, Mike
Tipton, Brandon
Tony Gurule
Torgerson, Michael
Trathnigg, Robert
Trefz, Rowan
Turner, Jean
Turnquist, Dustin
Valle, Antonio
Valle, Humberto
Valle, Octavio
Velez, Carlos
Vetrano, Pete
Vhaloulis, Demitri
Vick, Dave
Vick, Ira
Vidauri, Juan Andres
Vidauri, Juan Carlos
Von Urff, Eric
Wagner-Jauregg, Alex
Walcher, Dustin
Watson, Rick
Westphal, Carl
White, Chilly
Wichmann, Garrett
Williams, Matthew
Williams, Steve
Winder, James
Winship, Derek
Witt, Connor
Witt, Kevin
Wojtyczka, Kuba
Wojtyczka, Tad
Wonderly, Dave
Work, Nathan
Yorba, Eric
Zugovitz, Frank
---
RIDER INSTRUCTIONS
2017 LOS ANCIANOS TECATE ENDURO ENTRANT INSTRUCTIONS – 
PLEASE READ CAREFULLY!
Welcome to the Legendary Los Ancianos Enduro. The club has worked very hard to provide a fun and especially challenging modern enduro for you. This race will be run under Los Ancianos Baja California rules.   The event will be held at Hacienda Santa Veronica near the hotel.
SIGNUP, HOTEL, CAMPING, PARKING, and SECURITY
Santa Veronica has dramatically increased its security and to cover that cost, will be charging nominal fees and requiring wrist band identifications for all guests and campers.  As at any event, north or south of the border, you should lock your bikes, etc. up for extra security.
THOSE WITH ROOMS: When you check in to get your room you will be given a free parking sticker to put on the mirror of your vehicle. That allows you to go in and out at will. If you are sharing a room, a second vehicle, you will be given a second free parking sticker. More than that talk to Joanie Ellis.  You, and anyone in your group, will be given a wristband to wear that authorizes you to be in the Veronica facility.
IF YOU ARE CAMPING: Motorhome, van, or tent and want to set up in the Veronica facility you must first purchase a $5.00 a parking sticker/receipt for each vehicle you bring in. You will not be allowed in until you have the sticker.  Each person connected to these vehicles will pay $5, and should receive colored wrist band.  For example – 4 in a truck costs $20.
SIGN UP/REGISTRATION: It will be in the restaurant at Hacienda Santa Veronica.  Your sign up package will include your race bike number and tag for your gas can.  You MUST run the supplied race numbers to be scored.  Late sign up will be race morning inside the restaurant at 5:30AM & closes at 8:00AM.
RIDER/COURSE/PIT INFORMATION
IMPORTANT: It is imperative that you read and understand these rules and requirements! There will NOT be a formal RIDERS MEETING before the race.
COURSE IS CLOSED. NO PRERUNNING!  The only riding allowed in the Hacienda Veronica area is to the start and to the practice areas. The PRACTICE TRACK is marked with arrows for ONE WAY riding only.  ANY RIDING on the Enduro course before the start or outside the PRACTICE area is forbidden.   Any riders seen riding outside the practice area in the Veronica area may be DISQUALIFIED and not allowed to start the race.  Follow the arrows marked "start" within Hacienda Veronica to the starting area.  Also follow the arrows marked "PRACTICE" to the practice area.
COURSE AND RULES
There are 3 Loop/Tests of approximately 20-25 miles each. Each loop is an individual timed test section.   Loops/Tests will increase in difficulty.   Riders in the over-60-year-old class (Masters) and the Women's class, have completed their race at the end of Loop/Test #2.  All other classes must finish all three Loop/Tests to complete their race.  The combined cumulative time for all required Test sections is the rider's score.  Lowest score wins.
Riders will start at one-minute intervals, four riders per minute.   Each rider will be assigned 2 or 3 "key" loop/test start times (depending on class).  For all riders, your scoring time begins on your assigned starting minute, even if you are late to the start check.  That is your penalty for being late.
CRITICAL!  Your bike MUST be capable of 50 race miles on one tank of gas. If it's not, you better carry extra fuel.
Loop/Test #1 will finish, and Loop/Test #2 will start, at an undisclosed remote location.There will be no lunch and no gas hauled to, or available at, that remote pit.  Mag 7 will provide some limited mechanical/pit assistance there, and there will be water and snacks available.
Loop/Test #2 will finish, and Loop/Test #3 will start, at the same remote location as last year,  2 miles west of Santa Veronica (the motocross track tower, see page 4). LAMC will haul your gas to that location for you to gas your moto prior to the start of Loop/Test #3.
Loop/Test #3 will start at the motocross track/tower but will finish at Hacienda Santa Veronica.
There will be short rider breaks, 25 &40 minutes between Loop/Test sections to refill hydration, snack, and gas.  Exact break times will vary depending when you finish your test against your key time.
IMPORTANT!  If, at any point in the event, should a rider fall ONE HOUR OR MORE BEHIND their assigned "key" start time for the next succeeding Loop/Test, that rider has "HOURED OUT", and will not be allowed to start the next Loop/Test.
Loop/Test #3 is the most technical, requiring lots of endurance and a very high degree of riding skill.  If you are not houred-out, but late on your Loop/Test #3 starting minute, very fatigued, and/or mentally tired, please, please use your best judgment and DO NOT start Loop/Test #3. We don't want to have to go find you in the dark.
Only a rider that officially finishes all class-required loop/test sections without houring out will be considered eligible for a trophy.  Any rider that finishes their required race distance under their own power AND ahead of sweep will be eligible for a finisher pin.
LOOP/TEST STARTING CHECKS: The first key time line for Loop/Test #1 at Veronica will start EXACTLY at 7:01:00 am.  There will be FOUR RIDERS starting on the same minute. The first digit(s) is your STARTING MINUTE. The LAST digit is the rider identification number.   For example rider number "12" starts on the first minute and is the second rider on that line. Rider number "431" starts on the 43rd minute and is the first rider on the line.  All riders will be timed and scored individually.
The riders entered as a FOUR MAN TEAM starting on the same minute will have their four cumulative times added together for a TOTAL CUMULATIVE time for the team.  Again the shortest cumulative team time is the winning team. It is possible that you could be the fastest rider in your class and on the fastest winning team. You will get two trophies if that is the case.
DEAD ENGINE STARTS –  This is a change from the last couple events.  All riders must push their bikes into the starting area.   They will line up, with their engines off, and start their engines immediately AFTER the green flag drops for their start minute.  If you have trouble with your engine starting, immediately push off to the side and continue your efforts there.
LATE TO YOUR START: If you are late for your starting minute for any loop/test section, proceed to the LATE RIDER LANE on the right side of the starting line.  You must STOP to have your number recorded.  You will be allowed to start immediately after the next line of riders starting on their correct minute. If you do not stop you will have 5 MINUTES added to your time.
There will be a sign at the start of each loop/test section indicating the number of the loop/test section. The sign will also indicate the total length in miles of this test section. The course will be mileage-marked every five miles, or closer depending on the location. There may be signs indicating the name of this particular section of the course.
At the end of Loop/Test #1, at the remote pit, THERE WILL BE NO GAS.  Hopefully you should have time to work on your motorcycle, grab a snack, and prepare for the next test.
At the end of Loop/Test #2 you will finish at the motocross/tower area, 2 miles west of Veronica, and you should have time to gas your motorcycle and prepare for the next test.
At both the remote pits, there will be signs directing you to the start of the next loop/test.   You will have to watch your time to make sure you are not late for your "key" start time for each loop. We will have a clock there for your reference.
LOOP/TEST FINISH CHECKS: The finish checks will funnel entering riders into a SINGLE LANE. Please use some SELF RESTRAINT when entering the funnel to not take out the check markings or our check workers. You MUST STOP at the timing line to have your number and time recorded. We are using computers and a manual backup to record your number and give you your correct time. You should be stopped for only a few seconds.
Only proceed when directed by the check worker.  Remember your number in case you lose your front number plate, or your number is not readable. We will ask for it. If you do not STOP and continue through the stop we will not be able to record your number and time and we will NOT BE ABLE TO SCORE YOU for the race.
EVENT FINISHES:  Master and Women's classes will finish at the motocross/tower pit at the end of Loop/Test #2, and transfer back to Veronica on the roads.  This is a residential area, please be careful and ride courteously.  All other classes will finish at Santa Veronica.
COURSE CUTTING: Any rider found racing off the marked course, taking a SHORT CUT, shall be immediately DISQUALIFIED.  Any PROTESTS must be made in writing to the club RACE DIRECTOR before the end of the day.    GPS EQUIPMENT will not be allowed on the motorcycles in the race and must be removed prior to starting.
REMOTE PIT/RIDER SUPPORT: Loop/Tests are 20-25 miles in length with a 25 & 40 minute break-time allowance at the end of each of the first two Loop/Tests.  This should allow for a break, snack, refueling (between Loop/Test #2 and Loop/Test
#3 only), and minor work on the motorcycle if required.  The exact break times will be provided at signup.  With luck, some Mag 7 folks may be in place at both pits to assist with bike problems, providing basics like tubes and tools.
If you have pit support, they will ONLY be allowed in a specially marked area at the remote pit between Loop/Tests #2 and #3 (the motocross track/tower 2 miles west of Veronica).  The route for support teams to the motocross/tower will be marked from Veronica.  You may wish to drive a vehicle to this pit early and drop it off.
You are NOT required to have pit support.  You may have your gas can hauled to the motocross track/tower on the Los Ancianos fuel trailers and gas/pit yourself.   At both the remote pits there will also be drinking water available for your use and for refilling your hydration systems.
If you want your gas hauled by LAMC to the motocross track/tower pit between Loop/Test #2 and #3, you must bring one can to the fuel staging area marked at Veronica. The gasoline must be in a marked container that DOES NOT LEAK and load it onto one of the designated club vehicles.  If your container is visibly leaking when you bring it to the loading area, we will NOT carry it.  Your gasoline MUST BE LOADED BEFORE 6:00AM as once the Los Ancianos gas vehicles leave at 6:00AM there will be no way to get your gas to the refueling area at the motocross track/tower.  After the pit area is closed your gas containers will be bought back to the same staging area at Veronica.  You may attach SMALL CONTAINERS of food or parts to your can to be hauled.
COURSE MARKINGS AND SAFETY
MARKING DISPLAY: While lined up for the start of the race there will be a large board displaying the club arrows with descriptions of how they at used to mark the course. It will be to your advantage to familiarize yourself with the course race markings.
The course is marked primarily by orange LOS ANCIANOS club arrows on a black background. Some fluorescent pink ribbon is used as needed to confirm the course between arrows.
The ANGLE of the ARROW indicates the direction and sharpness of the turn. One angled arrow followed by two arrows together indicates a sharp slower turn. Where possible the arrows will be on the "right" side of the course and on the outside of corners.
Single or multiple ARROWS pointing straight down are marking a DANGER on the course.  We are not kidding when we mark danger – slow down – pay extra attention!
There are "W" wrong way markers where other trails/roads intercept the racecourse. If you over shoot and go off the marked course be extremely careful about getting back on the correct course – DO NOT RIDE BACKWARDS ON THE COURSE! If you are seen doing this you will be DISQUALIFIED!
There will be a number of road crossings on the course. There will be a sign "ROAD Xing" before the road. A Los Ancianos CLUB member will man these crossings. Traffic on the road has PRIORITY!
We cannot guarantee that vehicles on the road will stop for the race, so unless you want to become a hood ornament, slow down and proceed as directed by those manning the crossing. You may have to stop or you may be directed to proceed.
The approach to both start and finish checks will be marked with signs indicating CHECK AHEAD. Be prepared to stop! We will appreciate you not running over one of our course workers or taking out the course markings at the check.
BAIL OUTS: The race course makes several major road crossings.  These will be manned.  If you are hurt, fatigued, dehydrated, or cramping, please use common sense and stop there.  Riders will escort you safely back to Veronica.  Its only gonna get tougher.   Don't be stupid.  If you have a problem, it becomes our problem and Sweep will have to get you out.
SWEEP: This time of year, daylight is limited.  Sweep must clear the entire course before dark.  If a rider, or riders, are not progressing quickly enough to remain ahead of the sweep riders, Sweep may elect to escort the rider or riders off of the course and direct them back to Veronica on the roads.  This will be at the discretion of Sweep.
MEDICAL: We will have teams of medical personnel, EMTS, certified Paramedics, and an MD riding on the course during the race. They will be carrying radios and medical support supplies. Also we will have ambulance services available but they are primarily transport services.
If you are injured, or come upon an injured rider, get yourself, or the injured rider, and the motorcycle OFF THE COURSE.  DO NOT MOVE an injured rider if it appears there is a NECK OR BACK INJURY. If this is the case stay and direct the approaching riders around the injured rider. In any case STOP the first rider that comes to the injury site, give them the bike number, how serious of injury and the approximate course mileage/location of the injury.
At any check, or Los Ancianos member with a RACE OFFICAL number plate on their motorcycle, give this injury information to them so that they can radio for medical assistance.
If you have a mechanical problem, or cannot continue riding, get yourself and your motorcycle off the course so as not to become a potential accident site. Do not attempt to find your way back by yourself.  Wait for the Sweep and they will get you back.
SCORING REQUIREMENTS
This event does not require timing equipment and calculations to maintain set average speeds.  We will NOT be using TRANSPONDERS.
We will post un-official results at the race as soon as we have the data from the last timed test section calculated. We request that if you think you are a potential winner to please stay until the results are posted. We intend to have a presentation to the winning rider and the winning team at Veronica after the race.
Official results will be posted on the Los Ancianos website