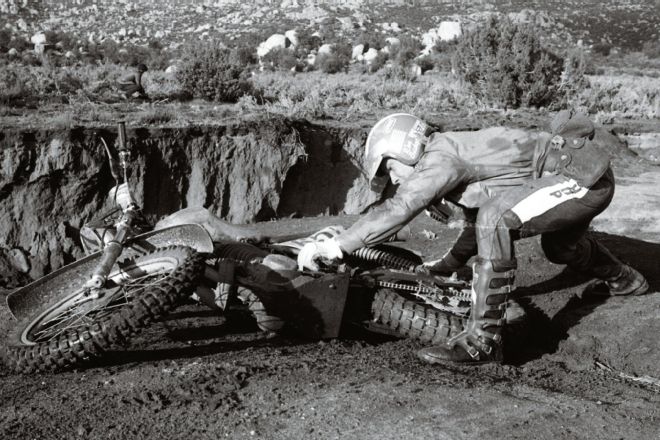 We lost one of the epic long distance off-road motorcycle racers. Ron Bishop passed away peacefully in his sleep the evening of 9/19/2014.
Ron Bishop: Baja Legend – Hourglass
The Los Ancianos M/C and the off-road motorcycling community have lost one of
the epic long distance off-road motorcycle racers and enthusiasts of recent
times. Ron Bishop, (aka "RB" by his many friends and admirers), passed away
peacefully in his sleep at his home in Escondido on sometime in the evening
of Friday, September 19, 2014, of apparent natural causes. Ron was a huge
part of the Los Ancianos history having competed in all the early Los
Ancianos Tecate enduros from 1973 until 1990 where he trophied many times and
won the grueling Tecate 500 Enduro overall in 1976 and 1977 riding a
remarkable factory sponsored 360cc Rokon Automatic with "pull start".
Numerous Los Ancianos members served as the pit crew for Ron in Baja races
over the years and others have been Ron's co-riders in several Baja off-road
races.
Ron earned his place in the record books and multiple Halls of Fame after 50
years of Achievement beginning in 1961 as an Expert Rider in District 37
where he competed in numerous enduros, ISDT qualifiers, scrambles, TTs' and
desert races. Ron's crowning achievement was being the only person to have
competed in the first 40 Baja 1000 races on a motorcycle beginning in 1967
with the NORRA Inaugural Mexican 1000 and continuing through 2007 where he
was the Grand Marshall and a race competitor in SCORE's 40th Anniversary of
the Baja 1000 Off-Road Race. After many of the exhausting Baja races, Ron
would often retreat to his Baja "Beach House" in Gonzaga Bay for some wellearned
R&R time and cold cervezas with his many friends and fellow retired
Baja race veterans residing at the beach.
Ron accomplished all these amazing feats while competing in 27 Baja 500's,
and numerous Mint 400's and Mexicali/San Felipe 250/300 races. Ron was a twotime
member of the American Team selected to represent the U.S. at the
International Six-Day Trials (ISDT) competitions held in Dalton,
Massachusetts in 1973 and Berkshire England in 1976, where he piloted factory
enduro bikes for Rokon and Kawasaki. Ron was inducted into the American
Motorcycle Association (AMA) Hall of Fame, Horse Power Ranch Baja 500 Hall of
Fame, and the Off-Road Motorsports Hall of Fame (ORMHOF). Ron will also be
inducted as planned into the Trailblazers Hall of Fame in 2015.
Ron was the sole proprietor of Ron Bishop Motorcycles in Escondido where he
mentored many aspiring off-road racers and assisted his fellow racing
competitors in preparing themselves and their machines. Ron was a gifted
motorcycle mechanic who excelled at detail-oriented race bike preparation.
Ron pioneered the development of what are now today's high intensity off-road
lighting systems for competition motorcycles and ATVs.
Ron had a good ride and gave his all to the off-road motorcycling community
and the sport. We will miss him mucho.
Godspeed RB. See you down the trail somewhere in Baja.
– Don Graves
Memorial Bench Racing Fiesta for Ron Bishop