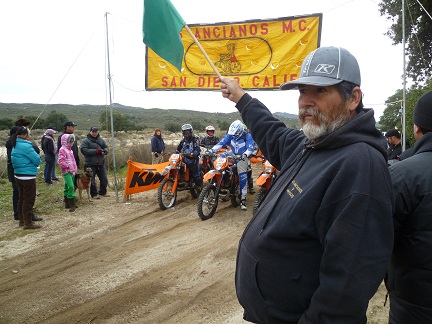 We had a number of meetings with Teo over the years, starting with him introducing himself and telling us we were parking on his property. He always said OK, but wanted to be sure we knew it was his. Though he spoke very little English and I very, very little Spanish, he always made the effort to communicate in such a way the gringo could understand him. He never came off as being angry or mean, but always as a very dignified working rancher and ultimately accommodating.
He invited us into his home and served us coffee and cheese that he made at his rancho. Though I could not understand everything he was saying, I felt a communication with him. Joaquin and T.J. were kind enough to translate for me to better understand. One story he told was that his father was Andrea's twin brother. But his father died at a very young age, I believe in his '50's, of cancer. Now Teo suffered the same fate.
I know he liked the pictures we took and Alex blew up to 20X30″ for him. We had given him a picture of his family in 1997, the year of the next to last enduro. When we gave him the new family picture he brought out the '97 version and was very proud to show us his family then and now. It is something that I felt made a bond between us. There was a picture of him and me at the last Hare Scrambles, and he held up the picture and said something to the effect "That's me and Bob". He referred to me as Bob, the guy that takes pictures and can't speak Spanish. So true. Thankfully the pictures were of some pleasure to him and his family.
We'll miss him a lot.