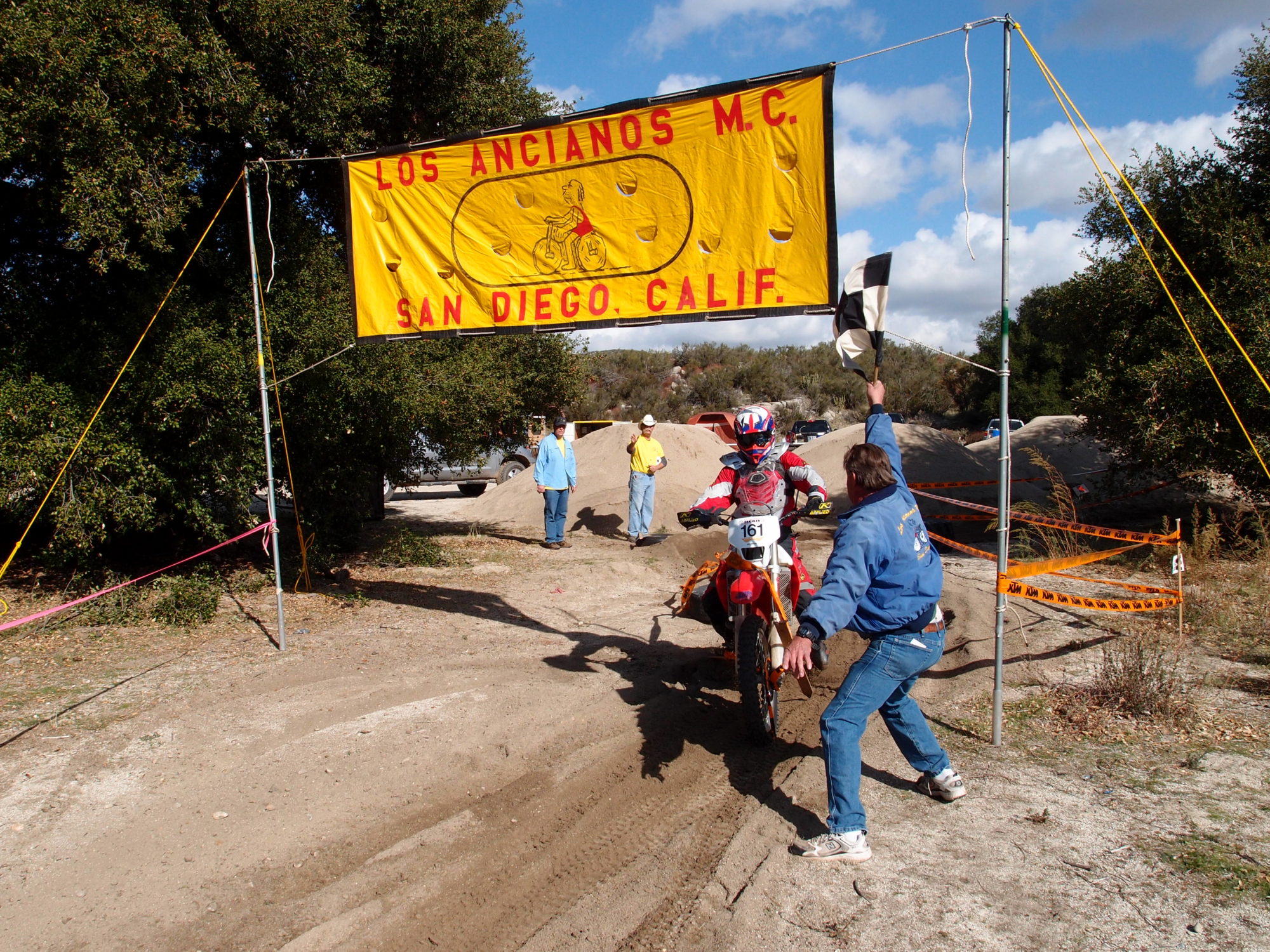 2018 Tecate Enduro is SOLD OUT! We sold out in less than 2 hours… If you would like to be added to the wait list E-Mail lamcracesignup@gmail.com
Frequently Asked Questions
Do I need a VALID PASSPORT to drive back into the US from BAJA? – It's the fastest way to get back. For USA citizens, a Passport Card will also suffice and gives access to the Northbound Ready Lane in San Ysidro and OTAY. If all you have is your driver's license and a certified copy of your birth certificate, you will get back into the country but you may be sent to Secondary Inspection.
Can I bring gas in cans into Mexico? – NO, only what is in your tanks. They won't let you dump it in your truck, they will send you back to the USA. Buy it at the PEMEX on your way out of town. Better gas anyway, no ethanol.
Do I need to show registration for my bike to get it into Mexico? – ABSOLUTELY! It MUST be original (not a copy), current, valid registration. And definitely NOT a pink slip. They have been very diligent lately about it and many riders have been turned back. Make sure you have no more bikes than passengers. NOTE: You cannot cross motos in trucks or trailers into Mexico at Otay. Going north is okay.
Do I need Mexican auto insurance? – Yes! Regular U.S. insurance is not recognized by the authorities in Mexico. You can easily buy and print out a policy online from www.BajaBound.com Mexican Insurance. They are also a sponsor of Los Ancianos, so show them some support!
Should I enter this event? Not if you are a Novice, weak B or C Rider, cause you will likely hour-out early on. If you are a solid and tough B rider, or above, yes. Tests will increase in difficulty with #3 being the most technical.
Where will it start? Hacienda Santa Veronica, Tecate, Baja California (Google it). Pre-running is prohibited.
What time will it start? First key time 7:01AM 12/1/2018.
What is the format? 3 Timed Test Sections of 20-35 miles each. Total of ~90 miles (+/-). (Masters and Women do first 2 sections only). Total cumulative time for all tests is your score. Lowest score wins.
What is the start format? 1 minute intervals x 4 riders on a minute. 73 lines 292 max! No exceptions.  You will be assigned a key time for each Test. You can arrive early to an entrance check, but if you are late your race time has already started at your key time. You must stay within an hour of an average speed to avoid houring out.  Engines off while waiting in line.  DEAD engine start at all starts and checks.
How is starting order determined? Our plan is to start everyone in groups by class, fastest classes first. Within each class, starting order is determined by date of registration/entrance/signup.
What classes? PRO, Open A, Vet (30 and >), Sr (40and >), Super Sr (50 and >), Master (60 and >), Women
Can I enter more than one class? – Nope.
Is there a Trophy Team Entry option available? 4-rider teams only. Winning team has shortest combined time. All 4 must ride and successfully complete all 3 tests. 1 hour out = DNF. Trophy Teams can be registered at signup at the race.  All team members must already be entered in the race.
Can I request to ride on the same minute with my friends? Yep. With up to 3 other entrants (presuming you have that many friends who will ride with you). If you want to do this send an email to lamcracesignup@gmail.com after all of you have successfully entered and paid.  We will try to accommodate your request.  You will all start in the class that corresponds with the slowest class member in your group.
How much does it cost? Pre-entry: $150. Post-entry (if there is room: $175). Entry Includes lunch, a T shirt, and we will haul your gas to the remote lunch/pit. NO REFUNDS AFTER NOV. 1st, NO EXCEPTIONS.
How do I enter? ALL entries will be made electronically .. Only these electronic entries will be valid. You must be prepared to pay via PayPal or a credit card at the time of registration.  Entries NOT paid at time of registration will not be valid.

NOTE: Pro Entries will be NOT be online.  PROs Contact Russ Mitchell at russellmoto4@gmail.com.

When do I enter? The enduro's electronic entry form will open at 6pm October 10, 2018. The direct link to the entry form will be published at www.losancianos.com and on our Facebook Group.  NOTE:  There is a new direct entry web address that will be used this year.
When do entries close? Electronic entries close at 12:00AM Midnight October 31st 2018! or when maximum rider limit (292) is met.
Purse for PRO class? Yes, Thanks to our generous sponsors DP Racing and Vey's Powersports, in the Pro Class we will award $2500 for 1st Place, $1000 for 2nd Place, and $500 for 3rd.
How many Trophies? We award one trophies for every six riders in a class. Ex: 18 in the class, trophies to 3rd.
Where will it go? Enter. Show up where we tell you to. Start on time. Follow the orange LAMC club arrows.
How long is it? ~90miles (+/-) Three (3) 20-35 mile tests which increase in difficulty. All entrants except MSTR (60 ) and women, ride the full course to successfully finish and receive a finisher pin. MSTR and Women ride 1st 2 tests only.
How far does my bike have to go on a tank of gas? 40 trail miles at race speed. 75 if you want to skip a pit stop.
Will there be gas on the trail? No but you will be able to pit at the end of each test.
Will my gas be hauled for me? Yes.
Is lunch included? Yes.  At the end of  test 2
Will the event be cancelled in the event of weather? No. But we would then expect less finishers and less dust.
Scoring. Your time starts at your key time, your time ends when you cross the finish of each check. Accuracy to 1 second. Any ties will be decided by who had more section wins between the tied riders.
Where will info updates be made available? Competitors will receive entry confirmation via email. In addition, you can check for updates on the site. Rider entry packet including your race numbers will be provided at the event onsite registration.
Other Questions? – email Ray Abbott (rabbott3@cox.net ) or lamcracesignup@gmail.com and/or post your questions to the Los Ancianos Motorcycle Club Facebook Group. If your question may be of interest to other riders use Facebook.
Click Here To See Our Facebook Page!
https://www.facebook.com/groups/459670697450111/
Questions about your entry, cancellations, etc. email lamcracesignup@gmail.com