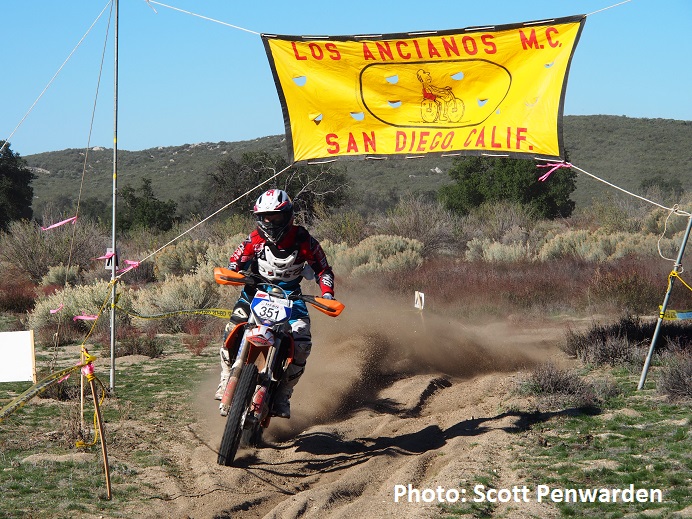 Video Links
---
The 2015 Los Ancianos Competition was on Saturday, December 5th
Los Ancianos thank all that made the 2015 Sprint Enduro possible, including the racers, volunteers, and ranchers. We had the opportunity to try a new format and appreciated the excitement generated by participants. There have been other competition formats in the past, a sign of the times: the Two-day Enduro, the GP, the Hare Scrambles, the National Enduro format, and now the Sprint Enduro. The lessons learned tell us the dirtbike competition community expects a fun factor as well as difficulty, and we must weigh these two against the club commitment needed. Sometimes the pendulum swings in order to then find the best medium. We have made tough competitions, and we have made various events that emphasize the fun side of competitiveness.
We offer our congratulations to all racers who gave the new Sprint Enduro format a go. The results in 2015 showed Ivan Ramirez had a clear winning trend. Yet some were perplexed with the first of six sections which did not reflect this, i.e., fourth place Noah Kepple had the fastest first section. Second place local pro Justin Morgan and third place Kyle Redmond of endurocross fame, also had faster times than Ivan Ramirez in the first section. As it turns out, Ivan Ramirez had to arduously work past a slower rider and that did not work itself out quickly until section two. Well, these are some of the lessons we are gaining through observation, and we also appreciate the great racer feedback we are receiving so far. How to make the course challenging while also considering many other factors such as rider spacing, course width, etc.?
We were asked whether we will go with a Sprint Enduro next year. There are many formats to choose from. We will take a breather this Winter, and then the club will consider fun vs difficulty this upcoming Spring and assess the best format for 2016. For now we just wish to relax and enjoy the afteglow of this event. Thank you again to all that made this possible, we do this for you and thanks to you. The Sprint Enduro presented an opportunity for racers to try ISDE-type grass tracks, as well as a new format that can be compared to a series of mini motos through mountain terrain. Any format next year will take all these factors and racer feedback into consideration. For now, we wish you a safe and happy transition into the New Year, and hope to see you again in 2016.
---
The Official Results are In!
2015 Tecate Sprint Enduro – Class Results
2015 Tecate Sprint Enduro – Overall Results
Thanks to all who made this event possible, particularly the competitors!
---
Media Coverage