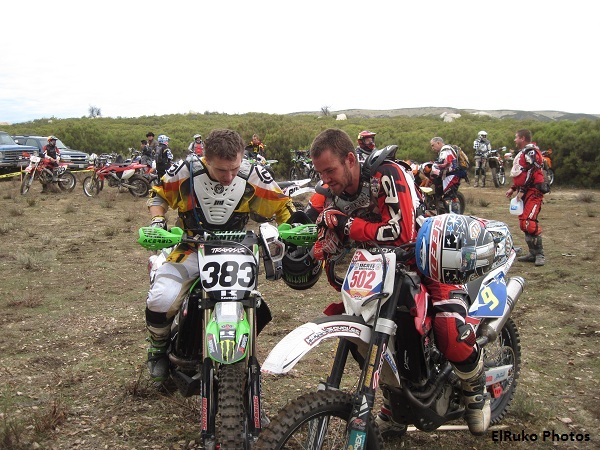 Our Heritage – Our Enduro – 50 Years
After a thirteen year hiatus, the Los Ancianos 50th Anniversary Tecate Enduro is complete and what an event it turned out to be. Cool weather, wet ground and a festive atmosphere allowed 230 riders to enjoy a special day of riding. Some of the very best off-road riders in the country including National Enduro Champions, ISDE riders, SCORE Champions, Mexican Champions, Enduro-cross riders and longtime Baja Veterans participated in the "New Format" style of enduro and the comments from many riders proved that it made for a fantastic day of riding.
Unfortunately and on a very sad note, fellow rider and friend Desmond McDonald passed away early in the event and our hearts go out to his family and friends.
Bobby Garrison and Team ZipTy Husqvarna achieved the overall first place finish. Bobby Garrison faced very stiff competition from Cory Graffunder and Taylor Robert as well as many other very fast and skilled riders (see the results link). Competitors rode with the best riders in the nation.
This event would not have taken place without the hard work and dedication of the Los Ancianos MC Members and volunteers. Many man hours go into this event but the result is one of the best rides in the country. Special thanks to our President Don Chalmers, Paul Eddy as Course Czar, Jim Tripp as Personnel coordinator, Ed Trudersheim for Start area, Joaquin Candia for First Loop, TJ Klein for Second Loop, Scott Penwarden for Third Loop and Registration, John Gregory for Lunch, Roland Reed and Tom Klein for Scoring, and all the checkpoint personnel scattered throughout the hills of Baja. These are just a few of the many critical people involved in this event.
Thank you to all the riders and their support people for making the trek to a remote area of Baja California. We know that you worked hard to prepare your body and your equipment for this event. We also know it is expensive to participate, so thank you.
This event was held on private property with special, one-time permission from the ranchers. Please, please don't go out and ride the trails on this property. Perhaps one day we can create new trails adn hold additional events on this property if we respect their property rights now.
Will we have another enduro? If so, when? Well, let us digest this one for the moment and we'll have to see about the future.
Video Links
---
The Official Results are In!
Thanks to all who made this event possible, particularly the competitors!
---
Enduro Letters
Los Ancianos tried its best to make their 50th Anniversary competition worth remembering. Accordingly, we are truly grateful for the warm reception and kind words sent by various competitors, some of which are being shared below.
Incredible race! I had heard it was good but I am blown away. The club members and helpers were all awesome, the food and hospitality were great! The trails were epic. Sorry to hear about the man that suffered a heart attack. Most people I talked to agreed that it was probably a good way to go out, doing what you love. I hope that doesn't created huge problems for your club.
Thanks again!
Tim Wussow – Prez. Fast'r MC – Phoenix, AZ
This weekend I was able to come down to participate in your Enduro. I tried to tell all of your volunteers how great it was but please thank them again. This was by far the best course I have ever ridden in my life! I was absolutely impressed from the first minute all the way to mile ninety! The course, scorers, lunch staff, and everyone else who helped put this together did a top notch job. I knew it would be awesome and it was worth the wait. I know I got spanked since the 40+ class was loaded but that made it even better! How often can I say I raced LR, Ty, J.Lewis, and several others? I have already told everyone who didn't go how awesome it was. I couldn't find one person in the pit area or hotel that didn't have a blast. I can't thank you enough!
Kelly Gelhaus
Just wanted to say thanks to you and all the other Ancianos for the man hours, land negotiation, and cost to make this race happen. It was without a doubt the best race I have ever been in. The organization was great, the trails were flat-out incredible, the level of competition was top notch, and once again the trails were AMAZING! I just hope this isn't the last one and I'm certainly not alone in hoping so. Hopefully it's something you guys might be able to do every 4-5 years or something. Thanks!
Nick Newkirk
I just wanted to say thanks again! That was an awesome experience. Thank you and the team for all your hard work putting the Enduro together, laying out the course etc. I believe this format was better for everyone as it gave us an opportunity to rest and stay fresh. At mile 85 I was still feeling strong… which given that I haven't been training for months and months… and months… was a testimony. Truly a great experience.
Dax
THANK YOU VERY MUCH. That was the best race I have ever done . You guys did a great job , course was marked really good and it was a great course . The lunch break and gas breaks where set up very nice . Everyone I talked to loved the whole day. Thanks again.
Dean Adams
No refund necessary, you put on an amazing event, I wish we could have done more.
If there were ever an opportunity to go ride the area for an afternoon, let me know, it seemed like an amazing place to ride. Thanks again!
Ivan Stoilkovich
AFTER A YEAR OF ANTICIPATION FOR THE 50TH ANNIVERSARY ENDURO, YOU AND THE TEAM PULLED OFF A GREAT EVENT. THE NEW ENDURO FORMAT IS A LOT OF FUN. KUDOS THE ALL THE GUY THAT SPENT ALL THE EFFORT CUTTING AND MARKING THE COURSE. AND ALSO TO THE TEAM THAT HELPED WITH SIGN UP,CHECK POINTS,SWEEPING,AND ALL THE OTHER BEHIND THE SEEN EFFORTS. BOY, WHAT A GOOD TURN OUT AND WHAT A TALENTED GROUP OF RIDERS.
I THINK EVERYONE ENJOYED IT. HOPE WE CAN DO IT AGAIN.
Jim Beauchamp
Thanks for everything! I had a great time at your race!
Russell Bobbitt
After several weeks of soaking up what I experienced at the 2010 Tecate Enduro, I just wanted to say "THANK YOU" for putting on one of the BEST ever Enduros ….Muchas gracias! Many of the out of state riders and local riders expressed the pure enjoyment of the event that we come to "expect" from the "Los Ancianos MC"….. but I believe the club went "OVER THE TOP" with everything…..The Course, sign-up, shirts, finisher pins, lunch, stuck stub, course markings ( even on row #2), results, website, media coverage and then the final video…ETC, ETC…….BRAVO! Niles would be and is very happy looking down on all the friends, family and club members coming together to orchestrate this event! PS I have read many fabulous accounts and stories of the Tecate event and despite the sad death of Dez this event is about "living, riding and enjoying friends!"
Grant Palanske
This msg is to communicate my deepest, sincerest thank you's to all of you who made this 2010 Tecate Enduro a reality. I know it took years worth of efforts and consternations to decide have the Enduro again. A mighty fine Enduro Event is was.I will remember 2010 Tecate Enduro as one of the most perfect days to ride a dirt bike…….. In FACT it was DIRT BIKE HEAVEN. The cloud cover, soil conditions, and the INCREDIBLE COURSE was the most fun I have ever had on a dirt bike since 1966. I know it is a HUGE amount of work to have fun like this. You Ancianos are the best there is at putting in the work cuz this event was more fun than is legal 🙂 My heart soars like a hawk when I remember seeing all of your faces.
Jimmy Sones
Grant Alexander and I both give thanks to the Los Ancianos for the great events for over 35? Years Kudos to Paul Eddy for the course this year. Lets make next year the last year. Then we can all try to talk you fine people into doing another last year!
Malcolm Smith
---
Media Coverage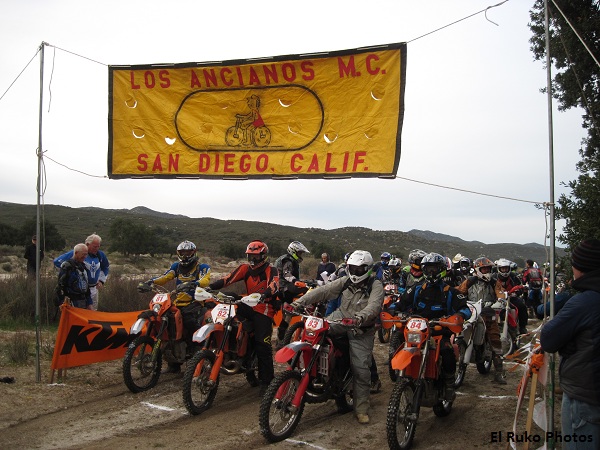 My Baja Photo
All pictures and content courtesy of My Baja Photo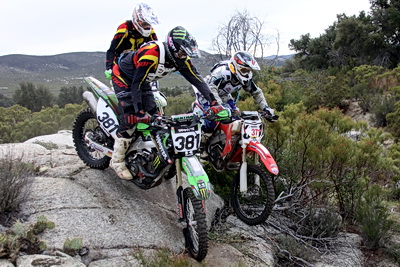 Dirt Focus
All pictures and content courtesy of My Baja Photo
Supercross.com
All pictures and content courtesy of Supercross.com